Transform Life Sciences & Pharma Marketing with Customer Data Management
You already know how critical data is to your business—in R&D, manufacturing, and operations. A customer data platform (CDP) can transform your marketing, too. Use CDP-driven behavior analytics and personalization to build relationships with healthcare providers (HCP), target key physicians more precisely, and engage your customers more effectively.
Treasure Data Enterprise CDP powers some of the largest companies in pharmaceuticals, health and medical devices, genetics, and life sciences.
Market to the right healthcare provider, on the right channel, with the right customized messages at every step of your marketing and sales campaigns. Treasure Data backs your business with AI-driven insights and predictive modeling, including next best action, lead scoring and website personalization.
See how quickly our award-winning CDP delivers results—often within a single quarter.
Get a Demo
Break Down Silos to Use ALL Your Data for Personalized Marketing
For a full view of all your customers and influencers, Treasure Data Enterprise CDP unifies data from all the data sources your business currently uses, including:
Life Sciences and Biotech CRMs including Veeva
Pharmacy Research Services including IQVIA
Contact centers including Salesforce ServiceCloud and Zendesk
Campaign engagement
Web browsing
Mobile app data
Treasure Data Enterprise Customer Data Platform for Life Sciences
Campaign Management and Automation
Identify and engage with healthcare providers's preferred communication channels and times to increase campaign performance
Field Sales Team Effectiveness
Identify field vacancy and dynamically assign healthcare providers calls and meetings
Lead Scoring
Prioritize leads for sales and initiate proactive marketing when the healthcare providers is receptive
AI triggers to request a meeting, send samples, or send invite to a webinar or training
Right Time, Right Channel
Send physicians educational and marketing content at the right time via their preferred channels
Website Personalization
Tailor appeals to healthcare providers's interests
Leaders in the life science and pharma industries trust Treasure Data
"Treasure Data is being used by the marketing department for the purpose of connecting contacts from all channels. This helps with attribution modeling and identifying healthy marketing channels. The tool assists in collecting and organizing our data for the marketing mix as well as helping us identify new possibilities not tried in our industry."
Marketing Manager, Large Hospital & Health Care Company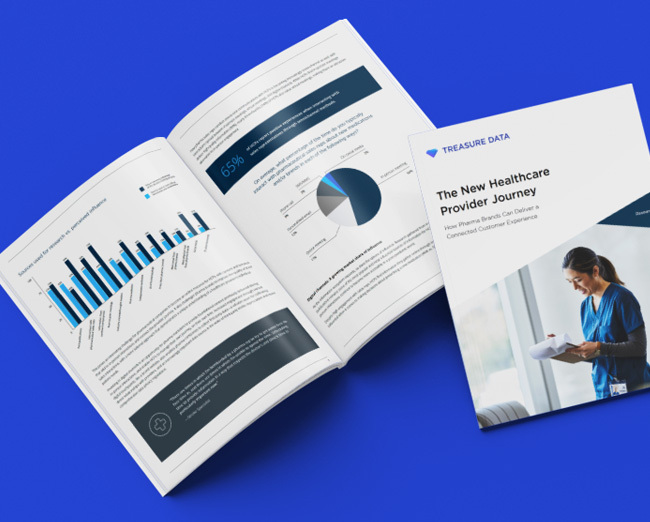 Report: Understanding the New Healthcare Provider Journey
New data shows what HCPs want from pharma brands to improve experiences.
Transform Life Sciences & Pharma Marketing
See how Treasure Data's Enterprise CDP is powering some of the largest life sciences companies.
Digital Pharma Innovation Week
Unlock data insights and learn how to capture HCP's attention, with precision.
Talk with our experts
We understand that no two companies operate alike. Our professional services team can help you configure a self-managed solution that meets your budget. Our highly attentive technical support staff is always on hand whenever you need assistance.
Consult an Expert