Power efficiency and growth, increase revenue, and reduce risk.
Marketing and digital teams have to change their strategies as customers' digital engagement skyrockets. There is so much customer data within reach.
How do you unlock the value of your customer data across the entire customer lifecycle? With Treasure Data, you start by collecting data across all channels and data sources, with consent. Then, you analyze that data to deeply understand the customer. Finally, you put data and insights in the hands of your business users by using:
Smart segmentation and activation
A/B testing and analytics
Predictions and agent recommendations
The result? Improved marketing efficiencies, and the creation of valuable connected customer experiences. Learn more about the business and technical benefits below.
Your objectives, priorities, and data maturity determine where to start and your best use case adoption path.
Improve conversion, boost LTV, and get immediate ROI with the following use cases:
Integrate Customer Data and Insights
Unify first-party customer data from channels and data sources to create a valuable single view of your customers–while ensuring you meet full privacy and compliance requirements. Then, cleanse and enrich the data with external sources. Remove the data and insight disconnect with ID resolution and AI-driven analytics that provide accurate predictions and next-best actions.
Learn More
Marketing and Operational Efficiency
Real-time marketing insights drive better customer experiences at every touchpoint.
With greater autonomy and direct access to privacy-compliant data, your teams can reduce overhead and launch new products with speed. Treasure Data's powerful, easy-to-use solutions allow teams to orchestrate journeys and build successful campaigns.
Learn More
Connected Customer Experience
Companies focused on touchpoints often optimize based on siloed outcomes. They don't have the view to best understand their customer's journey and struggle to deliver value.
And yet customers expect continuity, value, and trust when they interact with your brand. They want a seamless experience, whether the interaction is online, in the store, on the phone, over chat, or even in a VR environment. This type of connected customer experience is made up of personalized interactions across every channel, every department, every country, and every brand. This experience spans advertising, campaigns, loyalty campaigns, support, inventory, supply chain, and more.
Learn More
"The volume and variety of data we collect help Subaru build customer loyalty and distinguish our brand for success in a highly competitive transportation market."

Noguchi Kiyoshige
GM of Digital Innovation, Subaru
Integrations and Data Cleansing
Positive perceptions of your brand depend on your data being trustworthy, consistent, and correct. High-value data lets you make informed decisions about your marketing strategy. But with large volumes of data coming in from so many directions, things can get messy. You need data cleaning and data enrichment handled automatically and in real time. Also, ensuring that you have a schemaless solution removes the need for ingestion data planning and reduces the risk of lost data.
Data Integrations with Treasure Data
Treasure Data has a wide variety of integration APIs, SDKs, plug-ins, data loaders, custom scripts, workflows, and pre-built connectors to ensure that you can integrate with practically anything in your tech stack.
Learn More
Data is everywhere, all the time, and customers are too. They can interact with your business through many channels and want to be appreciated and rewarded for their loyalty.
Using AI-powered customer profiles you can plan personalized campaigns and increase brand loyalty. Whether they're contacting you as @Love2Swim99 or sjones@sjones.com, you can recognize your customers and personalize their experience. Understanding customers' preferences and habits lead to increased engagement.
Learn More
Customer Privacy Protection and Compliance
Customer data can strengthen consumer engagement. Yet, your brand reputation is at risk if you can't follow data privacy laws to keep users' data secure. Consumer protection laws are a key reason many businesses are now using a Customer Data Platform (CDP). Businesses can use the capabilities of a CDP to manage many functions of data privacy. Privacy functions include data lineage, global governance, and respectful segmentation.
Learn More
Resources that work for you
The Growth Triple Play: Creativity, Analytics, and Purpose
From McKinsey & Company, learn how companies can fuel their next wave of growth.
Where CDP Fits In Your Tech Stack
How CDPs compare to DMPs, Master Data Management, Data Lakes, CRM and other systems.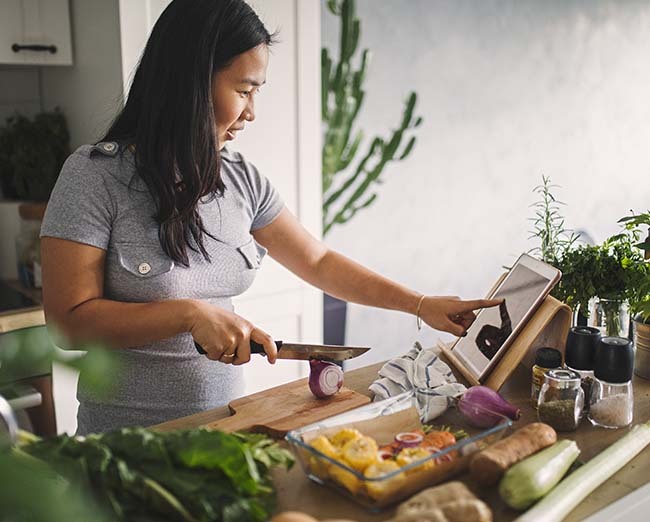 Trifecta Nutrition Case Study
How a CDP & Real-time Analytics Help Customer Contact Center Pros Keep Clients On Track
Talk with our experts
We understand that no two companies operate alike. Our professional services team can help you configure a self-managed solution that meets your budget. Our highly attentive technical support staff is always on hand whenever you need assistance.
Consult an Expert