Build Customer Relationships That Last
Target groups of buyers with precision and stay relevant to them throughout their lifetime
Schedule Demo
Discover your best customers
Easily surface key attributes and behaviors to segment groups of buyers and engage them with personalized content. Treasure Data puts the most effective customer information in the hands of customer-facing teams for every type of campaign or communication–retargeting, display advertising, email, web personalization, recommendations and more. Easily build and reuse groups of customer segments and even predict their behavior to optimize your outreach and save time.
Create relationships with finely-tuned customer segments
Establishing one-to-one customer relationships can be a daunting task, but customer-facing teams can start with specific customer segments and deliver consistent, remarkable experiences across functions. When marketers, sales reps and support staff get full access to information such as support call logs, web sessions, product usage and more with a unified customer profile, they too can start to interact on a more granular level. They can respond to inquiries more efficiently, develop custom offers for frequent shoppers and promote product features to customer segments with high affinity.
It all starts with understanding why and which people buy your products and services, and it culminates in developing meaningful groups of individuals you can interact with through targeted messages and campaigns. Treasure Data Segment Builder helps marketers fine-tune market segments based on any attribute and behavior, including actions buyers take in real-time on websites, mobile applications, IoT-consumer devices and more. It also updates them according to your unique segment definitions without manual intervention for greater personalization, more frequent engagement and, ultimately, better customer relationships.
Segmentation Key Features
Visualize profile trends with built-in dashboards to help create, maintain and update audience groups
Capture a full history of customer touchpoints and configure unified customer views based on your business needs
Leverage all data, including actions taken and not taken to build the most relevant segments
Reuse segment definitions to refine customer (account) targets for better engagement in less time
Create segments and update them automatically from real-time actions taken by website visitors. Personalize content, offers and messages on the spot
Interactive screens automatically updated with profile counts and statistics improve marketers' ability to rightsize their target segments
Personalize at Scale with Customer Journey Orchestration
What if you could visualize customers' behaviors as they engage with you? There are so many touchpoints for your buyers these days and it complicates your efforts to keep them engaged. Which messages work? What channels are best? And, what can I do to reach the right people in the moments that matter? You can answer these questions with Customer Journey Orchestration.
Gain real insight by uncovering customers' choices, responses and actions throughout their journey and influence them at key decision points for greater conversions, sales and retention. Whether they're purchasing, becoming a loyalty member, or responding to an offer, Customer Journey Orchestration helps you plan cohesive and on-brand customer interactions throughout any of these paths. Built-in segmentation, configuration and analytics tools for journey planning help you visualize whether marketing and service tactics are effective at driving customers through stages towards the desired goal.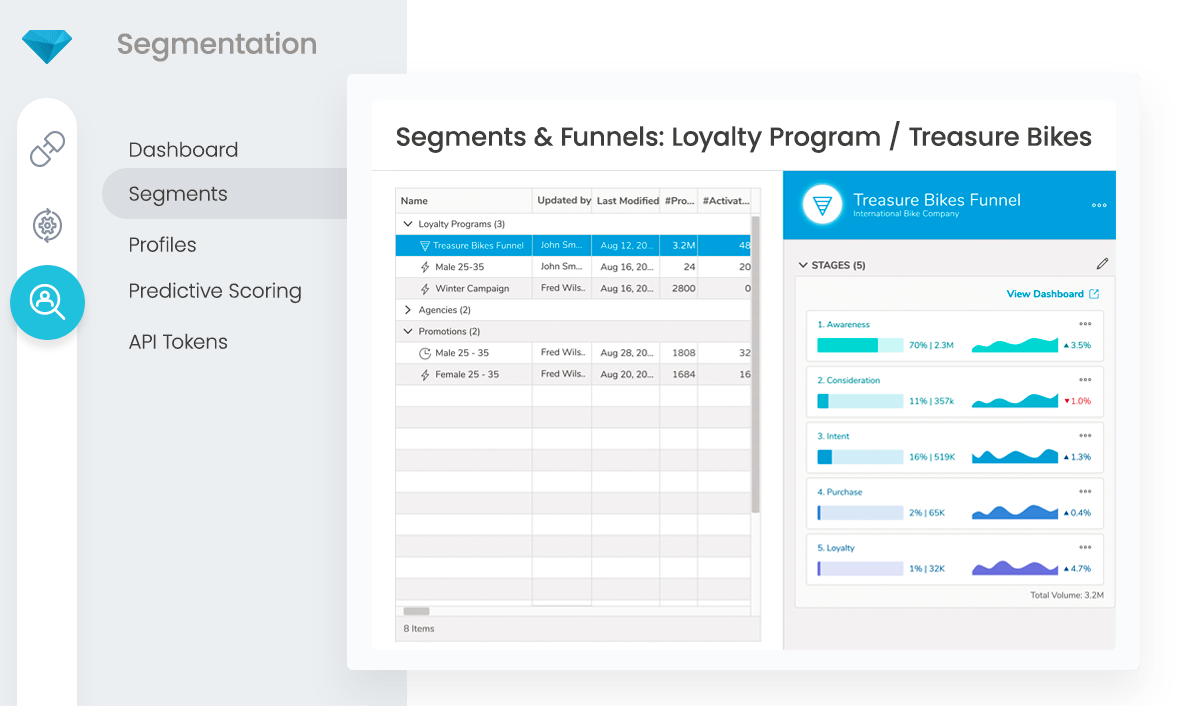 Customer Journey Orchestration Key Features
Fully unified customer data as part of an end-to-end CDP for the best decisioning
Macro-level journey planning to deliver personalization at scale
Analytics to inform journey planning and effectiveness at influencing customers during the purchasing path
Configurable journey stages for flexibility in journey analysis
Support for demographic-, behavior- and affinity-driven journeys
Boost relevance with predictive intelligence
Learning about customers preferences and buying behaviors is the key to delivering excellent experiences. What if you could supercharge those learnings based on the rich customer data you already have? Well, with Treasure Data's embedded machine learning techniques, you can. Treasure Data empowers marketers with AI-powered insights that are used to predict who is mostly likely to buy, churn, click, convert and more. A predictive model is built within our Segment Builder and is presented to marketers visually for ease of use. Marketers now have access to predictive capabilities for understanding customer engagement day-to-day and delivering the most effective messages, promotions and campaigns.
Predictive Scoring Key Features
Embedded machine learning logic and visual wizard assists marketers in building a predictive scoring model
Fine-tune your model with intuitive charts on statistically relevant attributes and behaviors
Use predictive scores in new or existing segments to tailor campaigns
Intuitive visualizations assists in grouping profiles according to scores for effective segmentation
Check the accuracy of your model on the spot with build-in statistics and stay confident of your results
Automate your predictive model development with Feature Guess–an embedded algorithm that automatically determines the best "predictive" attributes and behaviors to include based on statistics
Expand your modeling techniques with built-in machine learning libraries that support algorithms for recommendations, categorization, language processing and more
Earn customer trust with campaign processes built for privacy
Customer trust is the ultimate outcome of value. When customers come to love your products and services, they reward you with not only more of their wallet, but more of their time. They advocate for your brand, shun your competitors, engage directly with you and expect that you continue to deliver even better products and services. These are the customers you want to cultivate and keep, and that demands transparency and respect for their data. Treasure Data helps you keep your promises and only use customer data as agreed to. Working within your compliance program–processes, people and systems, our enterprise Customer Data Platform provides day-to-day logistics for respecting customers' consent preferences.
Privacy Compliance Key Features
Model consent preferences for your customers, including integration with 3rd-party consent management applications
Include offline (not web-based) consent from in-store POS systems, service systems, and mobile applications
Use those preferences to turn off tracking (mobile and web via our SDKs) and avoid unwanted communications to customers who have opted out of marketing programs
Help process delete requests from your customers, including complete erasure and/or anonymization
Export customer data for timely access requests
Assist in updates to your customers' personally identifiable information (PII) by amending customer profiles
Help document sources of your customers' PII and determine where and when your customers' PII is distributed to 3rd parties
Explore other resources on segmentation and predictive analytics
Understand how marketers can harness the power of predictive analytics (Hint: You don't have to be a data scientist!)
Go hands on with Treasure Data for segmentation, predictive scoring and campaign activation