Know Every Customer, Personalize Every Touch
Create a complete view of every buyer for customer knowledge that is leveraged across the enterprise.
Schedule Demo
Uncover the "Why" in every customer interaction
Tap previously unattainable levels of customer detail with Treasure Data enterprise Customer Data Platform. Build customer views that are unique to your business by harnessing data only you can access. Every web page visited, ad clicked and product purchased is kept together under one unified identifier (TD ID) for immediate access as the engagement happens. Gain real-time, actionable insights on buyers that not only provide the what and who, but also help you understand why they play, interact, purchase, convert, leave and more.
Build a complete view of your customers
Understanding your customers and prospects deeply requires a lot of data. No two buyers are alike, and neither is their path to loyalty. The more you understand about their direct interactions with you, your partners and with their peers, the more prepared you are to engage them in the moments that matter. Here is how Treasure Data helps you be prepared with the right customer data at the right time.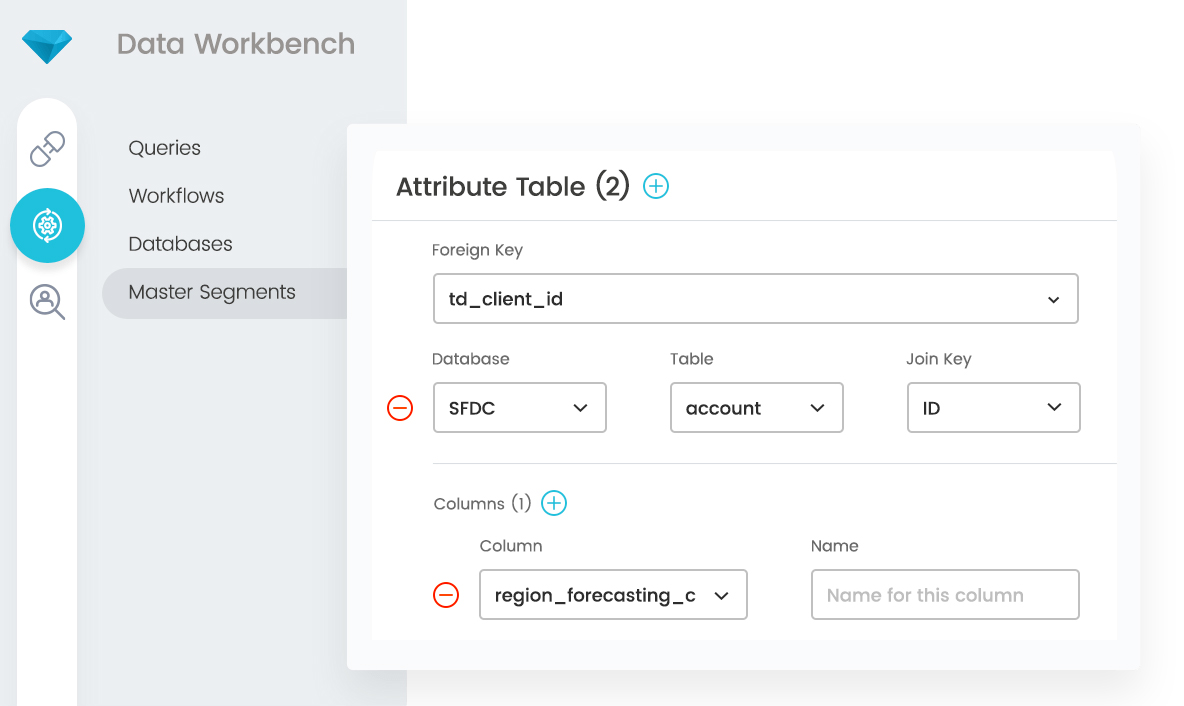 Data Pipeline Management Key Features
Get to the information you need, fast with schemaless data storage that allows for new customer information to be added at any time
Built-in dashboards for data processing administration keeps data pipelines flowing – no interruptions in critical customer data
Organize and share any or all customer data across the enterprise for analysis or reporting with Data Tanks
Treasure Workflow empowers your current IT team with secure data pipeline management for the right customer data at the lowest cost
Advanced Treasure Workflow Features
Granular access permissions by project meets enterprise security standards.
Manage and automate data processes from input and processing to output with streamlined methods that save time
Create workflow templates for reuse and collaboration to stay productive
Set-up notifications on status of workflows to ensure correct and complete data processing
Support complex data workflows and simplify them for teammates with task grouping and parallel execution
Most widely-adopted query engine options for processing both bulk and streaming data
Full toolset for job scheduling–no need for expensive add-on applications
Support for incremental data imports increases efficiency of data processing
Resource pools helps keep critical data processes running
Unify customer data to understand customer behavior
Understanding why customer buy, why they don't engage or go with a competitor is a process of discovery and is unique for every division in a company. You have to know who took action where and how often to understand intent and context. For example, you need to know which customer purchased $100 or more in one visit, if that same person also enrolled for loyalty points and which customer did nothing in the last sixty days. Unlike traditional CDP's, Treasure Data allows you to understand it all without data tradeoffs–what you can keep and for how long. With Treasure Data, all customer attributes and event-level detail is captured and can be unified for your unique understanding of every buyer through our Identity Services.
Identity Resolution Benefits & Features
Purpose-built tool for business and marketing analysts keeps customer profiles relevant for customer-facing organizations
Utilize all data tables in Treasure Data, including Data Tanks to manage, unify, consolidate, organize and link customer data
Create specific models for both customer attributes and behaviors from your own data and enrich it with 2nd- and 3rd-party data providers for a more accurate customer profile
Use purpose-built Treasure Data tables to automate unification workflow, for customer profiles that stay up to date with little effort
Automate content affinity categories to improve customer profiles when website events are captured
Explore other resources on data and profile management