Treasure Data Recognized as 2021 Bay Area Best Places to Work
MOUNTAIN VIEW, CALIF. May 7, 2021– Treasure Data has been recognized as a winner of the 2021 Bay Area Best Places to Work, an awards program presented by the San Francisco Business Times and the Silicon Valley Business Journal.
"The culture at Treasure Data is something that I have always been tremendously proud to be part of and what makes us unique," says Pankaj Tibrewal, CEO, Treasure Data. "In these unprecedented times, our team has been able to adjust to a remote work environment and still keep the core company values — humility, openness, honesty, reliability – ever present, day in and day out."
Award applicants were evaluated and ranked across 5 categories according to the number of Bay Area employees. The ranking found companies in the region whose employees rate them as the highest on such values as fun, collaborative culture, solid compensation and benefits offerings and other amenities as well as management practices.
"We work really hard to offer a complete and competitive package from compensation and benefits to just overall flexibility for our employees. We take pride in the overall wellbeing of our employees, " says Petre Sebe, VP, Head of People, Treasure Data. "I am so proud we won this award based on employee feedback and we will continue to find unique ways to connect and collaborate while also respecting each other's life priorities outside of work."
If you are interested in joining the Treasure Data team, check out the open career opportunities.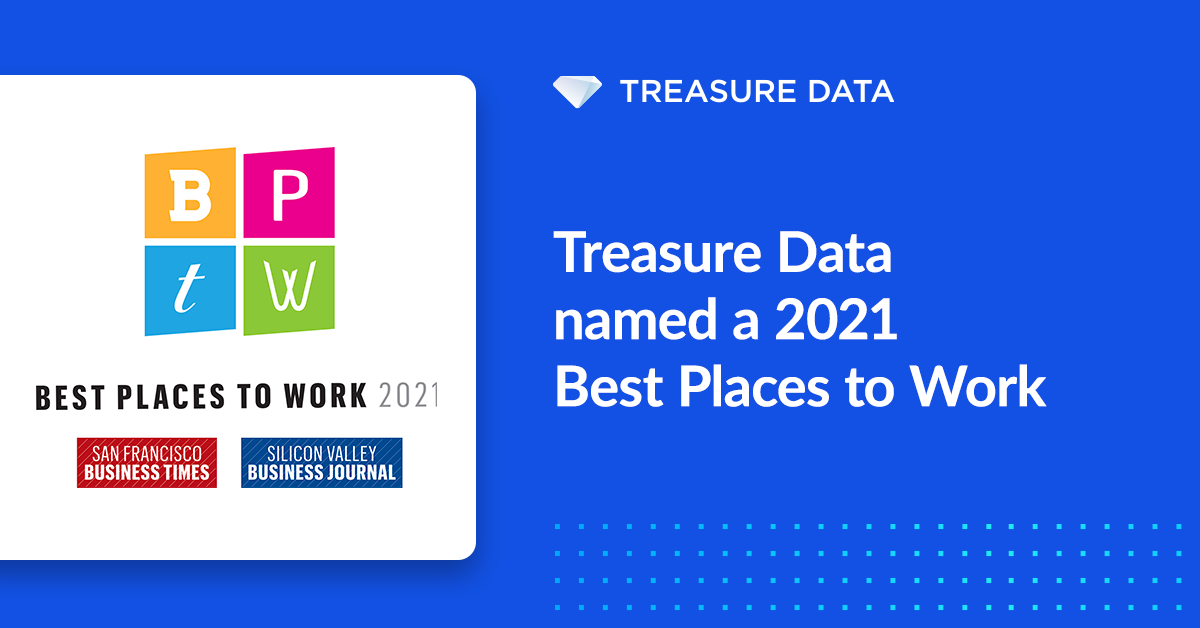 About Treasure Data
Treasure Data is the only enterprise Customer Data Platform (CDP) that harmonizes an organization's data, insights, and engagement technology stacks to drive relevant, real-time customer experiences throughout the entire customer journey. Treasure Data helps brands give millions of customers and prospects the feeling that each is the one and only. With its ability to create true, unified views of each individual, Treasure Data CDP is central for enterprises who want to know who is ready to buy, plus when and how to drive them to convert. Flexible, tech-agnostic and infinitely scalable, Treasure Data provides fast time to value even in the most complex environments. To learn more, visit www.treasuredata.com.
About 2021 Bay Area Best Places to Work
Best Places to Work is an innovative publication and awards program produced by the San Francisco Business Times and the Silicon Valley Business Journal. The rankings were determined by surveys that went directly to employees who answered a series of questions. The survey was administered online by the employers and through a service provided by Quantum Workplace, our research partner. The rankings are numeric based on Quantum's scoring process. By ranking companies and sharing best practices we facilitate idea sharing and help other companies learn from the best.
###