Treasure Data Named Best Customer Data Platform at 2019 Marketing Technology Awards
World's largest exclusive martech awards recognize Treasure Data's CDP for its scale, security and innovation
Mountain View, Calif., March 26, 2019 Treasure Data™ was named the Best Customer Data Platform (CDP) at the 2019 Marketing Technology Awards gala held on March 21 in New York City. The Treasure Data enterprise CDP is recognized for its ability to securely unify all types of data, scalability and use of advanced machine learning for fast, actionable insights that help transform and drive growth for some of the most successful businesses in the world.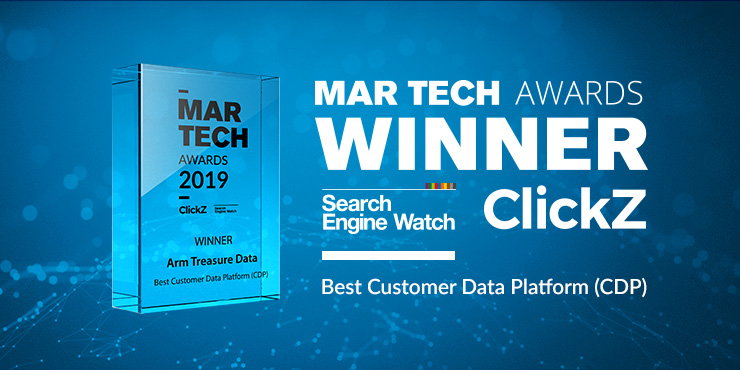 The awards ceremony, the world's largest exclusive marketing technology awards, was presented by ClickZ and Search Engine Watch, two of the largest and most trusted communities of digital marketers in the world today. Selected from more than 500 entries, winners were voted on jointly by over 2,000 readers and a distinguished panel of judges from leading technology companies.
"Marketing professionals rely on our technology every day to gain and build competitive advantages," said Hiro Yoshikawa, vice president and general manager of data business at Arm. "This award is a validation of the exceptional value Treasure Data's enterprise CDP delivers to these professionals and many global brands."
"Despite being in a very busy space, Treasure Data pushes the envelope of what's possible," says Sam Lawson, head of ClickZ and Search Engine Watch. "Judges praised their highly innovative focus, their CDP's advanced AI-based capability and scale and their admirable contribution to the open source community."
Treasure Data has experienced a great deal of momentum so far in 2019. For the second year in a row, Treasure Data was included in the Gartner Data Management Solution for Analytics Magic Quadrant. Treasure Data also unveiled recently new product features and integrations designed to allow customers to seamlessly move from data management tasks to marketing tasks, as well as an enhanced user experience that provides maximum cross-organizational collaboration. More than 350 companies around the world depend on Treasure Data to responsibly collect and understand massive amounts of data and create new customer experiences.
Click to tweet: @treasuredata named Best Customer Data Platform (CDP) at the 2019 Marketing Technology Awards @ClickZ #MarTechAwards2019
Learn more about Treasure Data CDP solutions for marketing.