How to Develop a Customer Insights Strategy and Reduce Enterprise Silos
A customer insights strategy helps businesses make better decisions; it is central to driving sales, improving customer service, and optimizing marketing initiatives. A CDP is uniquely positioned to supercharge companies' customer insights strategies in the age of the hyper-digital consumer.
Elements of a Customer Insights Strategy
A customer insights strategy is built on a unified view of customers (WHO) and a comprehensive customer journey map (WHAT they do, and WHERE/WHEN/HOW they engage). Only with these key elements can businesses understand WHY they act the way they do—in other words, these elements are the building blocks of customer insights.
Customer insights represent an understanding of customers and their behaviors on a deeper level. This requires that companies have the ability to:
centralize customer data
track the whole customer journey, and
analyze customer data at a sufficient depth
Though each task is far from simple, this three-pronged approach allows companies to derive usable customer insights, offering a more powerful tool for businesses than consumer data alone.
The Strategy in a Customer Insights Strategy
After developing customer insights, the next step focuses again on a HOW—as in how companies should use customer insights to their maximum potential. This can be further expanded by the questions below:
WHAT is the next best action to guide the customer along the path to conversion?
WHERE is the consumer in the customer journey and where do they respond best to offers?
WHEN is the best time to engage the customer?
WHOM to target with a specific marketing initiative?
HOW to engage a particular customer / audience segment / group for maximum results?
Answers to these questions will differ for every scenario, but will always depend on customer insights derived from collected and analyzed data. That's why a CDP is critical to developing a customer insights strategy that works. A CDP not only has the ability to centralize information, but also to deploy it across front-facing teams while implementing a synchronized strategy. Let's take a closer look at each of these aspects below.
Sales
A CDP empowers sales teams to seize the moment by providing contextual insights for specific accounts. Hot leads can be followed up immediately, while sales team members can engage "colder" leads at a less aggressive pace. Treasure Data CDP ingests and processes hundreds of billions of data points to provide accurate predictive insights, inform interactions, and create a positive customer experience for all leads in the funnel.
Data-driven insights translate to tangible results with faster close times, higher close rates, and lower customer acquisition costs. The Treasure Data CDP acts as a one-stop solution for lead qualification, account journey, and post-sales service. A comprehensive and granular view of behavior at the account level can fine-tune sales strategies for higher rates of success.
Lastly, a CDP-enabled customer insights strategy helps sales teams prioritize leads through predictive scoring so resources and time are spent wisely.
Marketing
Treasure Data CDP provides cross-channel insights that help create personalized and consistent experiences. The single customer view (SCV) plays an essential part at this point to ensure teams don't work in silos. Through a constantly updated SCV, teams can apply a united customer insights strategy to customize interaction across channels.
Marketers can use Treasure Data CDP to fuel their customer insights strategy by collecting all (consented) data points and behavioral cues. These insights can then be used to decode customer intent and determine the next best action—whether it's an intervention to reduce churn, or a timely recommendation to encourage purchase. Treasure Data uses machine learning and data science that analyze billions of interactions to serve every customer at scale.
Treasure Data CDP adapts and grows with your business needs, making it a future-proof solution for your marketing orchestration. Check out what you can do with our platform:
Segment audiences accurately
Activate segments with one click
Deploy Treasure Data's customer journey orchestration solution
Analyze journey progression
Optimize campaigns with A/B testing
Predict which audience segments are most likely to take action
Service
A customer insights strategy comes alive with real-time updates and recommendations to service personnel served by the Treasure Data CDP. With Treasure Data CDP's centralized customer data foundation, agents know exactly where the customer is in their journey and what they need. Additionally, Treasure Data CDP supplies service agents with actionable insights through AI agent assist. Personalize interactions with a Treasure Data-powered customer insights strategy for an exceptional experience and conversation that drives conversion.
See how Treasure Data CDP helps customer service agents and their customers: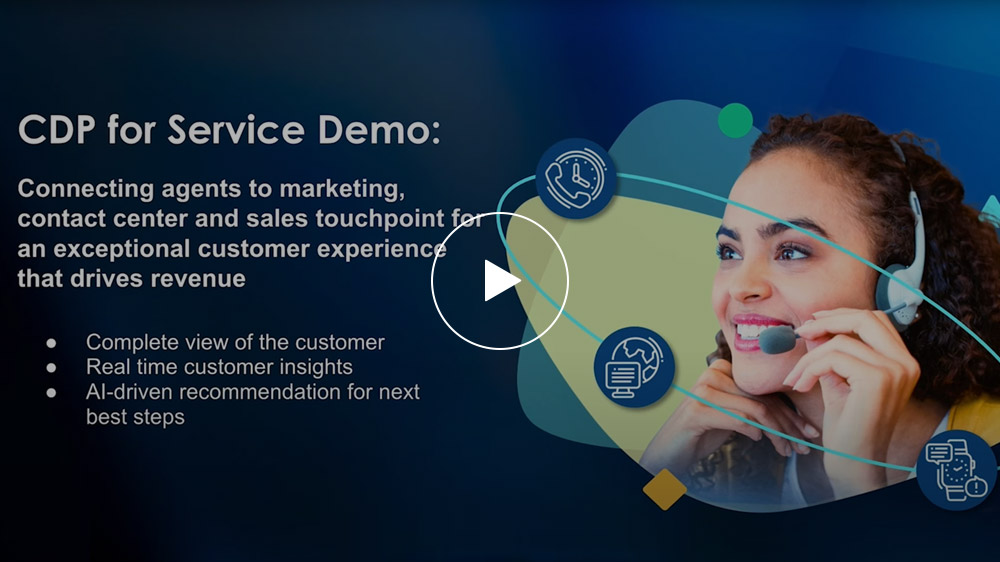 CDPs End Enterprise Silos
Treasure Data CDP enables customer insights strategy across sales, service, and marketing. Additionally, the Treasure Data CDO enterprise silos through seamless integration with existing platforms. Supported integrations include:
Adobe Analytics
Amazon Advertising
Braze
Cvent
Domo
Facebook Ads Insights
FTP
Gigya (SAP Customer Data Cloud)
Google Ads
Hivemall
Hubspot
iOS SDK
Javascript SDK
Magento
Mailchimp
Marketo
Node.js Applications
Oracle
PHP Applications
Ruby SDK
Salesforce
Shopify
Twitter (Liveramp)
YouTube
Zendesk
See the complete integrations catalog here.
Check out some of our clients' most popular integration recipes:
FTP input » Tableau output
Mongo DB input » Jupyter output
Amazon S3 input » Tableau output
Kafka input » Pandas output
Google Analytics input » Redash output
Unlike a CRM or DMP, a CDP excels at centralizing information from a wide range of sources so you can have one single source of truth regarding your customer base.
This flexibility enables Treasure Data to power customer insights strategies across a variety of industries, including:
| | |
| --- | --- |
| Retail | Maximize customer lifetime value through connected retail experiences |
| CPG | Power CPG digital transformation |
| Life Sciences | Build relationships with healthcare providers and target audiences through customer data management |
| Automotive | Get to know every car buyer through a unified customer view |
| Financial Services | Retain loyal customers and reduce risks |
| Entertainment and Media | Engage customers through hyper-personalized experiences |
Build Your Customer Insights Strategy with Treasure Data
Treasure Data has helped over 400 clients across 10 industries to develop and implement effective customer insights strategies. The Treasure Data CDP is founded on the idea of customer-centric digital transformation so your business can focus on what matters—building genuine relationship with customers.
Our platform manages 65 trillion records on a daily basis, enabling global companies to serve individual customers at massive scale. Machine learning and data science capabilities let you see each customer clearly and personalize interactions at every stage of the journey.
See how we have helped these brands develop their customer insights strategies:
Subaru used Treasure Data's capabilities to gain full insight into their customers and prospects. With a customer insights strategy built on demographic and behavioral data, Subaru increased conversion rates by 15% in a single campaign and netted $26 million in sales. Audience segmentation coupled with a personalized customer journey for each segment helped Subaru achieve 80% faster time-to-value and a 250% increase in conversion for A-grade customers.
Predictive scoring built on customer insights helped the company refocus its sales resources. Digital Innovation engineer Oishi Masami said, "We need to do more than just give dealers a list of prospects. Today, using Treasure Data CDP tools we're able to use predictive scoring to identify the showroom visitors most likely to buy. Using machine learning, we've improved our forecast reliability by as much as 30 percent for 'likely' buyers. That information greatly improves sales efficiency, helping dealers better allocate always-limited staffing resources."
PARCO, a Japanese shopping mall and department store chain, used Treasure Data to gain deep customer insights and support its over 3,000 retailers. It faced the challenge of competing with convenient online stores while maintaining its own brick-and-mortar stores. PARCO needed to deploy a marketing strategy fueled by actionable insights and supported by one scalable system. By doing so, it hoped to improve customer service and increase lifetime value.
The company partnered with Treasure Data to derive critical insights from multiple touchpoints. Using these insights, PARCO developed a data-driven marketing strategy that included the launch of a mobile app designed to work in conjunction with in-store promos. As a result, PARCO saw a 35% increase in store visits thanks to deep digital insights from its loyalty app. In-store traffic drove a 25% increase in purchases. Lastly, PARCO improved repeat visit rate by 8% thanks to insights gathered from surveys, LTV, and purchase data.
Build and deploy your customer insights strategy with Treasure Data today. To learn how to transform customer data into actionable insights, consult an expert today. Want to learn more? Request a demo, call 1.866.899.5386, or contact us for more information.